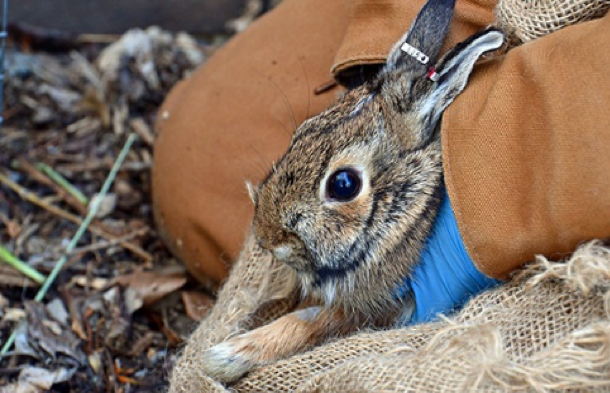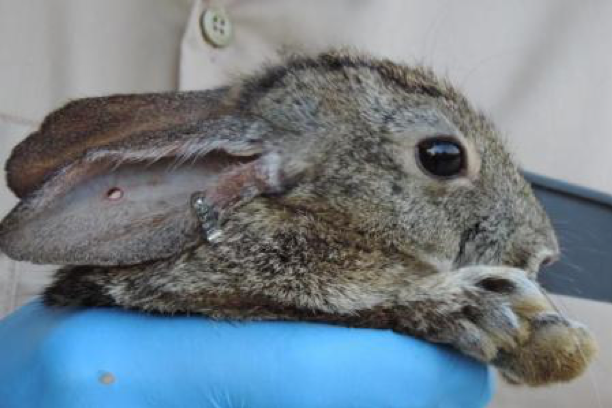 Did you know that we manufacture rabbit ear tags? These ear tags are used on rabbits for different research, breeding, and conservation purposes. NB&T offers a few different types of ear tags for rabbits, two of our most popular styles are a thin metal tag with an aluminum or plastic washer (style #1841), or a self-piercing ear tag (style 893). Other styles include the style 1005-1 for small rabbits, or the 1005-3 and 1005-4 for larger rabbits. Your tag style and material may vary depending on the species and environments the rabbits are in.

An alternative method for tagging rabbits in the ear, or any large-eared animal. is accomplished by first folding the ear in half. Next, locate the piercing point of the tag, half of the tag's length, down on the folded ear, allowing the other half of the tag length to remain clear. Now pierce through both halves of the ear with a single squeeze of the applicator. This will result in two incisions in the ear. Simply pull the ear back up and the tag will now be located securely in the center of the ear with the number facing out at all times.
National Band & Tag will be closed on Friday, March 30th, for Good Friday. Business will resume on Monday April 2nd.
https://nationalband.com/wp-content/uploads/2018/04/website-logo.jpg
0
0
Andrea
https://nationalband.com/wp-content/uploads/2018/04/website-logo.jpg
Andrea
2018-03-28 11:00:44
2020-11-05 11:14:03
The Easter Bunny has an Earring?