There are a few different ways to attach a tree tag or arboretum tag. Check out the options below to find the best method for your organization. The most popular ways are using a nail/spring combo directly on the tree or a metal stake in the ground next to the tree.
#1. Spring and Aluminum Nail Combo
Aluminum Nails with Stainless Steel Springs allow the tag to stay off the tree. As the tree grows, the springs will compress. This helps keep the tree from growing over the tag. Please remember to put the springs behind the tag, in-between the tag and the tree, and not in front of the tag. 5/32″ hole size is recommended when using our 3″ aluminum nails.
2 1/8″ Stainless Steel Springs (Box of 50)
Style 1528
Spring Diameter – 3/8″
3″ Aluminum Nails (Box of 50)
Style 1529
1/8″ diameter (you will need larger than 1/8″ hole)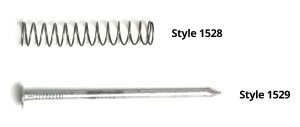 WE DON'T RECOMMEND USING SCREWS WHEN MOUNTING DIRECTLY ON THE TREE!
You can see in the pictures below where the screws compressed the springs and drove the tag all the way down to the tree. This defeats the purpose of leaving room for the tree to grow. Even if they had left room for the springs to expand, the screws are larger than the holes, so the tag cannot slide on the screw. If the screws are smaller than the holes, if it is put in at the slightest angle, the tag could get caught up on the screw's threads, not allowing it to slide.  National Band & Tag is not responsible for ruined tags due to incorrect mounting.
#2 Stakes In The Ground
If you don't want to put the tag directly on the tree you can use metal stakes, or a post (see #3). These stakes are 20″ inches tall, so even when in the ground, people won't have to bend down that far to read the tag.
3/4″ x 20″ Stake
Style 1530
Black Aluminum
3″ bend and 1/8″ thick
Comes with a 3″ strip of 3M tape already adhered to the stake. Just peel the protective paper off the adhesive and attach the tag.
We also offer a smaller stake (1/2″ x 12″) for plant tags. Style 1531. Click here to learn more.
#3 Posts
Use a wood post set in concrete and then use screws or nails to mount the tag onto the post. Or use a metal post and use wire to tie the tag around the post. (NB&T does not supply posts).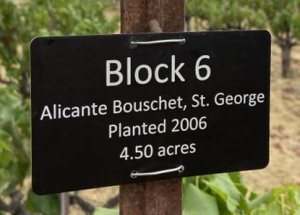 Shown with four 1/8″ inch holes, 1″ inch apart.
#4 Hang the Tags
You can use zip ties or wire to hang the tags off a branch.
https://nationalband.com/wp-content/uploads/2018/04/website-logo.jpg
0
0
Alison
https://nationalband.com/wp-content/uploads/2018/04/website-logo.jpg
Alison
2020-01-22 11:00:06
2023-05-16 13:12:50
How to Attach a Tree Tag