Whether you're a peafowl farmer, or just raising some peacocks for pets, NB&T is here to help with all your peafowl identification needs. Numbered bands are helpful for tracking breeding birds, chicks from different bloodlines, and other important information.
Leg Bands for Peafowl
Both aluminum and plastic leg bands are a great option for those who want a temporary form of identification because they are removable. Some customers prefer leg bands over wing bands because they don't want to pierce the wing with a wing band. If you plan on leg banding peachicks, you will need to order multiple sizes and change out the bands as the peafowl grow. Below are two videos on how to band peafowl with National Band & Tag's plastic and aluminum leg bands.
Banding adult peacocks with an aluminum butt-end band: (Video Credit: Mr. Peacock)

Style 1242 -22 leg band is recommended for adult peahen. Style 1242 -24 leg band is recommended for adult peacocks. (Please note that National Band & Tag is not responsible for the incorrect leg band size being ordered. Measuring your bird's leg is the best way to find the correct size leg band. Learn more on how to measure a bird's leg here.)
Banding peachicks with plastic spirals (no numbering) and plastic bandettes (numbering 1-200): (Video Credit: Mr. Peacock)
Wing Bands for Peafowl
If you want wing bands for your peafowl instead of leg bands, the Jiffy wing bands in brass (style 893B) are a very popular option. The aluminum Jiffys (style 893) work for peafowl as well. Wing bands are a great option because you can band the peachick, and the wing band will grow with them to adulthood.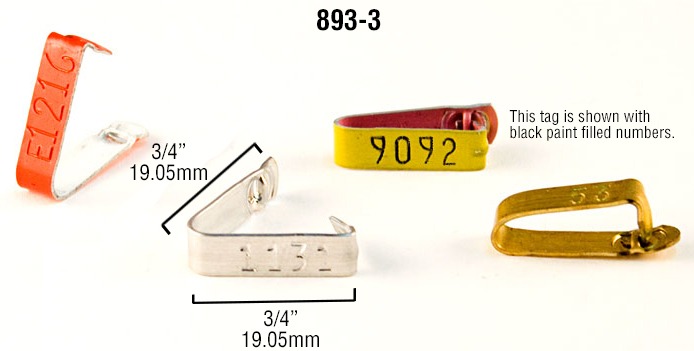 To receive a price quote for peafowl identification, email us at [email protected] or call us at 859-261-2035.
https://nationalband.com/wp-content/uploads/2018/04/website-logo.jpg
0
0
Alison
https://nationalband.com/wp-content/uploads/2018/04/website-logo.jpg
Alison
2020-07-22 10:48:12
2023-03-06 13:41:08
Wing Bands and Leg Bands for Peafowl