National Band & Tag is your go-to company for all your custom warehouse identification needs. Large warehouses are always in need of proper asset management and inventory management. We can produce custom-designed tags in multiple types of materials to meet your specific ID needs. Check out our materials, and examples from customers below.
METAL TAGS
Our heavy-duty metal tags come in a variety of materials to meet your warehouse's environment. Stainless Steel tags are available for environments with extreme heat or cold, or that deal with harsh chemicals. Colored Aluminum is available for when color coding is necessary, or UV Stable Black Aluminum is available for a high contrasting, easy to read tag. Hole sizes and locations are customizable, so you can have 2 – 4 holes for attaching to a shelving unit, or 1 hole at the top to hang the tag. All of our tags can be customized with logos, numbers, text, barcodes, etc. For barcodes, we offer a 2D Data matrix, Linear Code 39 or Code 128, or a QR Code.
The tag below is an example from a customer who needed an extra-large barcode so they could scan the barcode on the floor while sitting on the fork-lift. This makes picking inventory off the shelf easier and faster for them by not having to get on and off the forklift to scan it out. (Style #14, 3″ x 5″, 2D Data Matrix Barcode, UV Stable Aluminum).
PLASTIC TAGS
Plastic tags are an option if you need a temporary ID solution, or something colorful and flexible. We offer .020″ vinyl plastic that is thin and can be nailed or stapled. We also offer a thicker, but still flexible polyurethane material in select styles. Color options vary by style number.
The tags below are an example from a customer that used these flexible barcoded tags to staple to a wooden pallet. (Style #144VLE, 1″ x 3″, yellow vinyl snap-off tag).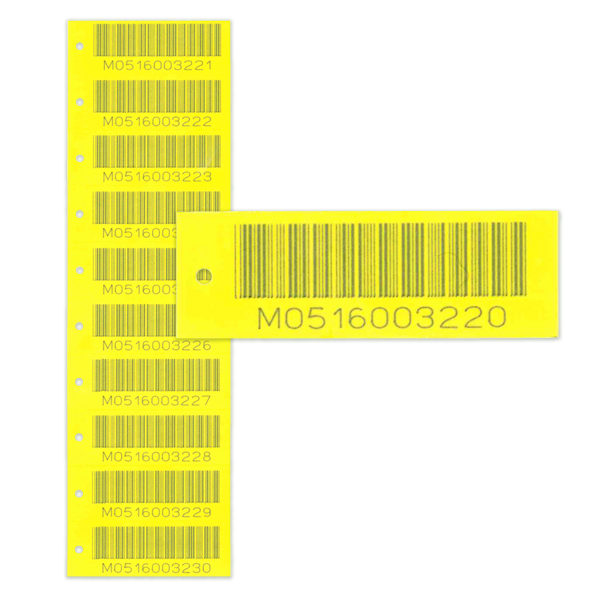 BLANK TAGS / WRITE-ON TAGS FOR ON-SITE IDENTIFICATION
Any of our metal or plastic tags can be produced blank so that you can engrave them yourself. We also offer Write-On Tags, which can be engraved with a ball-point pen or sharp object. These methods are better for warehouse management that requires quick, on-site, identification. For your blank tags, we offer a Battery Powered Precision Engraver with Diamond Tip Bit (Style R1580) and Hardened Steel Hand Stamps, gothic style, letters, and numbers for hand stamping tags (Styles 1571 & 1572).
For a free price quote on your custom warehouse tags, call us at 859-261-2035 or email us at [email protected].
https://nationalband.com/wp-content/uploads/2018/04/website-logo.jpg
0
0
Alison
https://nationalband.com/wp-content/uploads/2018/04/website-logo.jpg
Alison
2021-02-03 10:56:13
2023-03-06 13:39:30
Custom Warehouse Identification Tags