Are you looking to use QR (Quick Response) Codes to create an educational walking trail in your museum, arboretum, botanical garden, school, or park? QR Codes are a great way to provide more information about an item by sending people to a website. NB&T is here to help guide you through the process of getting your website into a QR code and onto a tag.
Follow these easy steps to complete your educational walking trail and get people scanning your QR Coded tags!
Prep your QR Code Information:
Determine what you want to have a QR Code on (plants, statues, trees, posts, memorial sites, exhibits etc.)
Create and design a separate web page for everything you want to have a QR Code on. (Ask your webmaster for assistance with steps #2 and #3 if needed).
Example:
Tree 1 – QR Code goes to www.tree1.com
Tree 2 – QR Code goes to www.tree2.com
3. Optional – For best scanning of a QR Code, use redirects for extremely long URLs.
Design Your Tag:
Browse through our website to determine the tag style, size, material, and hole size you want.
Sketch up a mockup, or layout of how you want your tag to look, along with any other information you want, such as company name, logo, item name, year, etc.
Send info from #4 and #5, along with quantity of tags you need to

[email protected]

for a free price quote.
Once ready to order – send your complete tag info to us using our Data Transfer Instructions. It is important to send us your info correctly so none of your tags are off. We will turn your web page URL into a QR Code!
Setting up Your Walking Trail:
Set up all your tags in a visible place where people can easily scan them.
Encourage people to use their smart phones to scan the tag for more information on the item they are looking at.
Maintenance – you can change the info on your web pages as much as you need. As long as the URL doesn't change, you won't need to replace your QR Coded tag.
Send us pictures of your completed walking trail!
Example: NC Coastal Reserve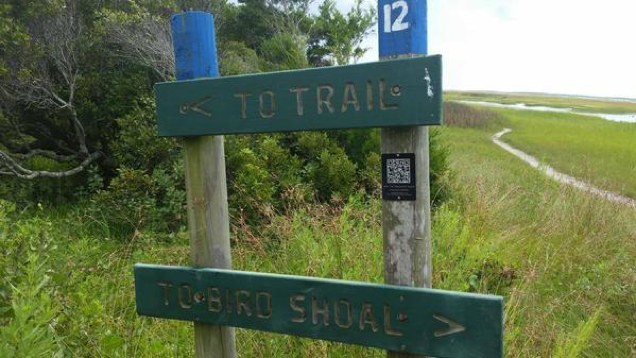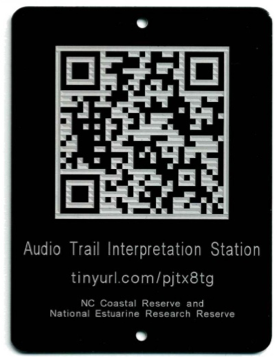 Determined they had 22 places throughout the walking trail on the reserve that needed a QR Code.
Created their 22 web pages that in this case, held audio files.
This customer used tinyurl.com for their redirects.
They chose a style 14 tag, 3" x 4" inches, in UV stable black aluminum material, with an 1/8" inch hole on the top and bottom of the tag.
They decided they wanted for their tag layout the QR Code first, then "Audio Trail Interpretation Station" the URL, and their company name smaller at the bottom.
Sent the info to us for a quote.
Sent their data transfer Excel sheet to us using the correct format.
Used screws to hang their tags into posts along the trail.
Promoted scanning their new tags through social media.
https://nationalband.com/wp-content/uploads/2018/04/website-logo.jpg
0
0
Andrea
https://nationalband.com/wp-content/uploads/2018/04/website-logo.jpg
Andrea
2017-06-14 11:00:35
2020-11-05 11:50:47
How To: Use a QR Code for Educational Walking Trails