These 3″ x 5″ Black UV Stable tags are great for Memorial Tags since they will not fade in the sun over time. Whether you want to place a tag on a tree, bench, artwork, etc. to memorialize your loved one, we can customize these tags to fit your need.
Style 14ARBOR – 3″ X 5″ with 5/32″ Holes Top & Bottom (For Nails/Springs)
Style 14ARBORNH – 3″ x 5″ with No Holes (For Stakes)
14ARBOR & 14ARBORNH blanks are stocked and ready to be laser etched. Or choose from one of our custom tree tag sizes. Different hole sizes and layouts are also available.
Weight
Special
EACH PRICES WITH VOLUME DISCOUNTS
Style
Description
per 1000
Charges
1
100
200
300
400
500
600
700
800
900
1000
5000
10000
14ARBOR
Arboretum Tags - 3" x 5"
50 lbs
11.00
8.30
6.20
14ARBORNH
Arboretum Tags without Holes - 3" x 5"
50 lbs
11.00
8.30
6.20
LAYOUT FEE
Arboretum Tag Layout Fee (Applies Per Layout)
35.00
Setup charge of $35 per layout.
Pricing is based on ONE layout. If you want multiple layouts, multiple setup fees will apply.
*An additional $35 layout fee will apply each time you change the number of lines, tag orientation, logo or artwork.
Scenario 1: Different text, same amount of lines, same logo, same orientation = 1 layout charge
Scenario 2: Same logo, same orientation, half the tags have 4 lines, half the tags have 5 lines = 2 layout charges
Scenario 3: 5 tags with 5 different logos, same amount of lines, same orientation = 5 layout charges
Aluminum Nails with Stainless Steel Springs allow the tag to stay off the tree. As the tree grows, the springs will compress. This helps keep the tree from growing over the tag. 5/32″ hole size is recommended when using our 3″ aluminum nails.
2 1/8″ Stainless Steel Springs (Box of 50)
Style 1528
Spring Diameter – 3/8″
3″ Aluminum Nails (Box of 50)
Style 1529
1/8″ diameter (you will need larger than 1/8″ hole)
If you don't want to put anything directly on the tree, you can use stakes in the ground next to the tree.
3/4″ x 20″ Stake
Style 1530
Black Aluminum
3″ bend and 1/8″ thick
Comes with a 3″ strip of 3M tape already adhered to the stake.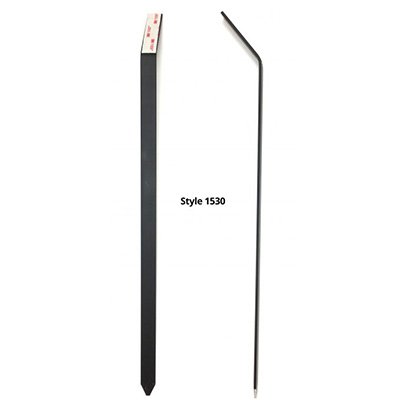 Other Custom Size/Material Memorial Tags (Request a Quote)