Vineyard Tags can be custom-made in multiple shapes and sizes to fit your identification needs. But, if you are looking for a rectangular tag, our style V14 (rounded corners) is the most popular style. Sizes 3″ x 5″ and 1-1/4″ x 4″ are the two most commonly used sizes, but we have more size options available. If you prefer a round tag, style 116 (1-3/4″) and style 93 (2″) are our two largest sizes. You can see smaller round tag sizes here. Black UV Stable Aluminum is our recommended material for Vineyard Tags because it will last outdoors for 20+ years.
These Grape Logos are available to use: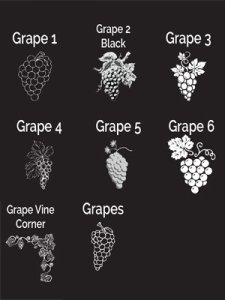 Or you can send us your own logo file.
Request a Quote for this Product