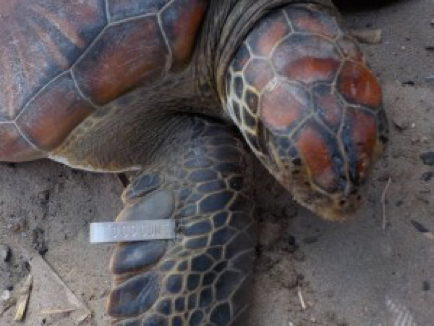 It's almost turtle tagging season! Has your organization ordered their Sea Turtle Flipper Tags yet? We recommend our style 681IC, self-piercing turtle tag because it is made of an Inconel material that will last for years in saltwater. Sea turtle tags are available stamped with up to 3 lines of text and up to a 6-digit consecutive number.
Not sure how to tag your turtles? The following tagging guidelines are provided by www.SeaTurtle.org
Where should the flipper tags be placed?
Hard Shelled Turtles: Most people place the tags on the trailing edge of the front flippers. To minimize the chance of tag loss, you should try to place the tag closer rather than further from the axilla (the armpit). There is a thickened scale on the trailing edge of the front flipper, immediately adjacent to the axilla. Most place the tag either through this thickened scale or adjacent to it. In the case of large turtles, the flipper near this scale may be too thick and hence the tag should be applied in the skin adjacent to the scale, either towards the axilla or away from it. The best location will depend on species, geographic location, and who is doing the tagging.
Some place tags on the trailing edges of the rear flippers. This is done for two reasons: to minimize the chances the tags will cause entanglement in nets and to maximize the retention of the tag. These are important considerations. However, tags on the rear flippers are more difficult to see, particularly in the case of nesting female sea turtles. If you decide to place flipper tags on the rear flippers, you should try to maximize the publicity about your choice of tag placement, to ensure that distant observers will also check the rear flippers.
Leatherback sea turtles: Because the trailing edges of the front flippers of leatherbacks are easily torn or ripped, most people do not place tags on the front flippers. Instead, flipper tags are placed in the skin between the tail and the rear flippers.
No matter the species of turtle, always be sure to leave some room (about 15-30% of the length of the closed tag) between the tag and the trailing edge of the flipper to allow for continued growth of the flipper.
Here are some pictures of tagged turtles provided by NB&T's customers. If you would like to submit a picture from your organization, you can send us your pictures here.