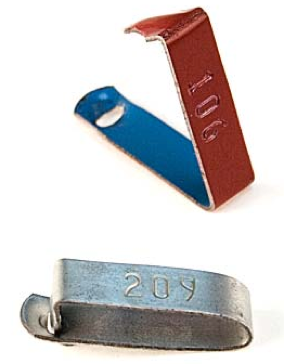 681
Inside dimension when closed: 3/16″ x 15/16″
---
Bar Codes are Available!
Materials
030″ Plated steel, .036″ Aluminum 5/16″ wide
Colors
Aluminum Choices:
Plain (Silver), Red, Light Red, Blue, Light Blue, Green, Light Green, Yellow, Orange, Light Orange, Pink, Light Pink, Purple, Light Purple, Brown, Light Brown, Tan, Black, Gray, White
Note: Stamping shows up better on darker colors.
RD
LT
RD
BL
LT
BL
GR
LT
GR
YL
OR
LT
OR
PK
PU
LT
PU
BR
LT
BR
TN
BK
GY
WH

Please note – Not all colors available at all times. Please indicate second color choice or contact us for current stock.
Steel Choices: Plain, Red, Blue, Green, Orange.
Numbering/Stamping
Official state coding.
Consecutive numbering.
Special stamping available.
Up to 6 digit stamped consecutive number.
Stamping Limits:
1 line of 4 – 3/16″ characters
1 line of 7 – 1/8″ characters
2 lines of 9 – 3/32″ characters
2 lines of 13 – 1/16″ characters
3 lines of 17 – 3/64″ characters*
*Double Set-up charge
All numbering will include preceding zeros. (Example: 001-100 instead of 1-100).
Barcodes are Available
STANDARD STAMPING IS ON BUBBLE SIDE. STANDARD NUMBERING IS ON POINT SIDE.
APPLICATORS:
681S – Standard Applicator – 1 lb ea. – $26.30

Interested in this product?
Interested in Product?
Fill out the form below and we will contact you as soon as possible.
Request a Quote for this Product