Wing Bands
Wing bands are a permanent type of identification with a high retention rate that will stay with the chick for life and grow with it. Wing bands will not bother the bird and may be covered with feathers when they are older, making it more difficult to read. Wing bands are usually put on chicks, anywhere from a day old to a few weeks, but can also be put on adult birds.
Learn more about: Which Wing Band is Best for You

Leg Bands
Leg bands are aluminum or plastic band that wrap around a bird's leg and must be fitted to their leg size. Leg bands are more commonly used on fully grown birds, but when used on a young bird, the band must be constantly changed as the bird's leg grows. Leg bands can be a temporary source of identification or a permanent one. Plastic leg bands will fall off easier than metal ones due to the bird pecking at it or excess exposure to weather. Leg bands are the best option for those who do not wish to pierce the skin with a wing band or toe punch.
Learn more about: Which Leg Band is Best for You

***Try a combination of leg bands and wing bands for guaranteed identification***
Peepers / Blinders
Plastic Peepers and Blinders are used to stop cannibalism amongst birds, such as chickens and pheasants, by hiding other birds from view. These are considered the modern version of chicken glasses. Some people will only use Peepers on birds that cause problems, while others will use them on their whole flock as a preventive measure. Try using different colors to track different ages or flocks of birds.

Toe Punches
Toe Punches can be used to mark the webbing between the toes of baby chicks. This option works for those who don't need colors or numbers to achieve their ID goals. Toe Punches create a small 2mm hole in the webbing, and there is a total of 16 different markings possible (one hole, two holes, left foot, right foot, etc.). Toe punches can also be used to pre-punch a hole in the wing webbing for wing bands.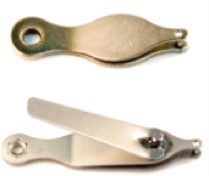 Other Poultry Identification Options:
Neck Tags – Plastic tags that can be hung by the neck of a baby chick.
Wing Badges – Large plastic badge that attaches to the wing and has large visible numbers.
Bird Bits – Plated steel or plastic bits that are placed in the bird's nostrils to help stop pecking. Special/deep feeders are needed so the birds may continue to eat.
https://nationalband.com/wp-content/uploads/2018/04/website-logo.jpg
0
0
Andrea
https://nationalband.com/wp-content/uploads/2018/04/website-logo.jpg
Andrea
2017-06-01 09:00:27
2020-11-05 11:55:39
What type of poultry identification is best for you?