Start by figuring out what your identification goal is, and what your wing band will need to be able to do to achieve this goal. All wing bands can be stamped, but if you want a barcode your style options are more limited.
Wing Band Stamping, Laser Etching, and Fusion Options
Wing Band Style #
Stamped
Laser Etched Characters
Laser Etched Barcodes
Fusion Markings (Characters, Barcodes)
Zip 890-2.75
Yes
Yes
No
Yes
Zip 890-3
Yes
Yes
No
No
Zip 890-4
Yes
Yes
No
No
Jiffy 893 & 893B
Yes
No
No
No
Tab End 898-2.75
Yes
Yes
Yes
No
Tab End 898-3
Yes
Yes
Yes
Yes
Tab End 898-4
Yes
Yes
Yes
No
Zip 892-3
Yes
No
No
Yes
Atlas Seal 8906-2 & 8906-2.5
Yes
No
No
No
Self-Piercing 681A
Yes
Yes
Yes
No
Stamping (with and without Paint Fill)
Stamping will last and stay readable
Laser Etched Characters
Etching may wear off bands after a few months depending on the use
Fusion Marked
Fusion marking will last the longest and stay vibrant and visible
***Barcodes will require a scanner, scanners are available for purchase or sample bands are available to test with your own scanners.
Style 890-2.75, 890-3, 890-4
The Zip is our most popular wing band. It is pre-formed with a rivet that makes the band tamper-resistant when sealed with our applicator.
The Zip comes in several colors and can have colored eyelets for easy color-coded identification.
Style 893 (Aluminum) and Style 893B (Brass)
The Jiffy is designed as a one-step application with its self-piercing design and reinforced piercing point.
The Jiffy is a popular style for those new to wing banding because of its easy to use, self-piercing feature.
It is the only wing band available in a brass material.
Wing Banding Size Guide
Size 3 wing bands are our most popular size wing bands because they fit on most birds. Size 2.5 and 2.75 may be used for smaller species, and Size 4 can be used on larger species. They may look too large on a chick, but the chick will grow into it and it won't bother them as an adult.
Now that you've picked out your wing band style, view our blog on How-To Apply your Wing Band!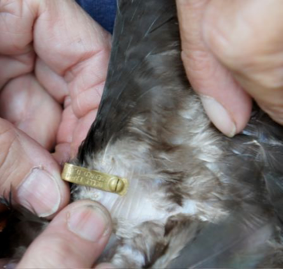 https://nationalband.com/wp-content/uploads/2018/04/website-logo.jpg
0
0
Andrea
https://nationalband.com/wp-content/uploads/2018/04/website-logo.jpg
Andrea
2017-05-31 13:00:34
2023-03-09 11:22:31
Which wing band is best for you?