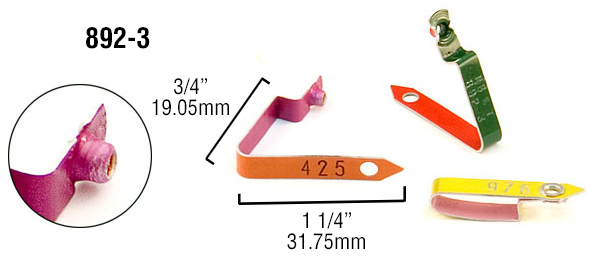 | | |
| --- | --- |
| Size | 892 Size 3 |
| Approximate Inside Dimension when Closed | 5/32″H x 5/8″L |
| Stamped | Yes |
| Laser-Etched Characters | Yes |
| Laser-Etched Barcodes (Linear) | No |
| Fusion Marking (Characters, Linear & 2D Barcodes) | Temporarily Unavailable |
The 892 size 3 is preformed with a drawn tube to create a tamper-resistant seal when sealed with our applicator.
Tagging Hints: After the band is inserted through the wing, with thumb and forefinger, close the band until the drawn tube is inserted into the hole. Seal with the applicator.
Aluminum Enamel Colors:
Aluminum Fusion Colors:

Stamping Limits
Fill the squares below to design your stamping. Each cell is a character. Spaces and punctuation counts as one character. Your stamping will be made as large as possible, but keep in mind that the more letters you have, the smaller the characters will be. Green: Standard Setup Fee, Orange: Extensive Setup Fee

Options Available
Stamped characters, logos, and paint fill
Fusion marked characters or barcodes
Applicator
Style 890S

Materials
Material: .025″ Aluminum 13/64″ wide.
Colors
Plain, Red, Light Red, Blue, Light Blue, Green, Light Green, Yellow, Orange, Light Orange, Pink, Light Pink, Purple, Light Purple, Brown, Light Brown, Tan, Black, Gray, White, Neon Green, Gold
Note: Stamping shows up better on darker colors.
RD
LT
RD
BL
LT
BL
GR
LT
GR
YL
OR
LT
OR
PK
PU
LT
PU
BR
LT
BR
TN
BK
GY
WH
NG
GL
Please note – Not all colors available at all times. Please indicate second color choice or contact us for current stock.
Our material is two sided, the back side will be a different color than the front side. You may choose the color for the front side, but not the back.
Numbering/Stamping
Up to 6 digit stamped consecutive number. Special stamping available.
Stamping Limits:
1 line of 5 – 1/8″ characters
1 line of 7 – 3/32″ characters
2 lines of 10 – 1/16″ characters
3 lines of 12 – 1/32″ characters*
*Double Set-up charge on any line with more than 10 characters/spaces or with more than 2 lines.
Paint filled characters available
All numbering will include preceding zeros. (Example: 001-100 instead of 1-100).
Want Special Characters? We have 4 STARS available to be stamped!
Interested in this product?
Interested in Product?
Fill out the form below and we will contact you as soon as possible.
Request a Quote for this Product