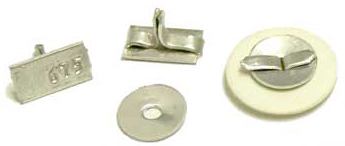 Tag is approximately 1/4″ high x 3/8″ wide with 1/4″ legs and 3/8″ diameter washer.
After small hole is made in ear (using the Punch, Style 1538), insert tag and place washer over the legs. Put gauge- style 1843 between the ear and the washer and bend legs flat. With the gauge removed there is now sufficient room for further ear growth. Color coding can be achieved by placing a colored washer over the aluminum washer.
Interested in this product?
Interested in Product?
Fill out the form below and we will contact you as soon as possible.
Request a Quote for this Product