Which Leg Band is best for you?
The first step to finding the right leg band for your needs is to determine what size you will need. Sizes are based on the inside diameter of the band. Not all leg band styles are available in all sizes.
Leg Band Size Guidance Chat

This chart should be used as a guide only. The most accurate way to find the correct leg band size is to measure your bird's leg. We are not responsible for incorrect sizes being ordered based on this chart.

Inside Diameter of Band
Breed of Poultry, Small Birds, Gamebirds, Etc.
3/32"
Sparrows, Swallows, Warblers, Goldfinch, House Wrens
1/8"
Canaries, Chickadees, Quail (1 day – 2wks), Evening Grosbeak, Titmouse
5/32"
Quail (2 wks – 4wks), Canaries (Yorkshire & larger breeds), Parakeets, Love Birds, Budgerigar
3/16"
Doves, Pheasant Poults (1 day – 5 wks), Cockatiels, California Valley Quail, Mexican Quail (adults).
7/32"
Quail (4 wks – average adult), Mississippi Quail, Massachusetts Quail, Bobwhite Quail.
¼"
Baby Chicks, Small pigeons (squabs, Archangels, Nuns, Tipplers, Rollers, Turbets, Fantails) Doves, growing Pheasants (4 – 8 wks), Quail (adult Northern or Southern extra-large birds)
5/16"
Wild Ducks (1 day – 6wks), Medium Pigeons, Wild Geese (1 day – 6wks), Woodduck, Pheasant females, (golden & fancy breeds, adults), Blue Winged Teal, Hungarian Partridge
3/8"
Growing Chicks, Large Pigeons (Show Homers, English Carriers, Carneaux, English Pouters, Hungarian Kings, White Kings, Mondaines, Feather Legged Toys); adult Ringneck Pheasants, Wild Ducks (6 weeks to adult), Wild Geese (4-10 weeks), Woodducks, Ruffed Grouse (female); Chukar Partridge, Gadwall Ducks, Pintail Ducks, Prairie Chickens, Chinese Pheasants.
7/16"
Bantams, Largest Pigeons (Giant Runts, Crosses, Tiger Swallows, Runt Crosses, Trumpeters, Bantams), Pheasants (males all breeds), Wild Ducks (mallards, adults – all breeds), Sage Grouse (female) Peacock Pheasants, Ringneck Pheasants, Mallard Ducks, Baldpate & Pintail Ducks, Ruffed Grouse (male).
½"
Grouse, Geese (6-12 wks.), Wild Ducks, English Call Ducks, Ringneck Pheasants (male)
9/6"
Leghorns Hens, Ancona, Silkie, Gamebirds
5/8"
Minorcas, Wyandottes, Crossbreeds
11/16"
Leghorn (Cocks), Rocks, Reds
¾"
Orpingtons, Canadian Geese (small race), Wild Geese, Wild Turkeys
13/16"
Brahmas, Langshans, Large Ducks
7/8"
Turkeys, Hens, Large Male Chickens, Geese, Wild Turkeys, Canadian Geese (large race, Honkers)
1"
Turkey Toms
Style 1242
These aluminum leg bands are available in multiple colors and are one of our most popular styles of leg bands. Sizes are available to fit almost any species of bird all the way from a hummingbird up to a swan. The applicator is required for opening and closing the leg bands (exception size 24 and up – you can use slip joint pliers)
New – 1242-22S has been made in a shorter height for roosters.
Federal band sizes and hard metal Butt-End Bands are available for those who require it.
Atlas Seal Style 305A & 305AL (Aluminum) and 305ABR (Brass)

Our most popular permanent sealed leg band, can be adjusted before closing to three different sizes.

Other adjustable leg bands are available for small species such as quail. Click the Adjustable Leg Band link above to view the styles available.
Spirals (Styles 2104 – 2116) and Bandettes (Styles 905-914)
Both are made from a plastic material and they will coil around the leg.
Bandettes are available numbered,
Sizes 7, 9, 11, 12: Numbering from 1 to 200
Sizes 5, 6, 14: Numbering from 1 to 100
Lock-On Bands

Aluminum lock-on bands have a tab that folds over and can be sealed using pliers.
These bands are usually used for birds of prey such as vultures, bald eagles, and raptors.
Rivet Bands

Use pop rivets and a pop rivet gun to seal the rivet band around the bird's leg
These bands are usually used for birds of prey such as vultures, bald eagles, and raptors.
Non-Adjustable Leg Bands

Thin metal bands that cannot be adjusted to a different size 
Now that you've picked out your leg band style, view our blog on How-To: Apply your Leg Band!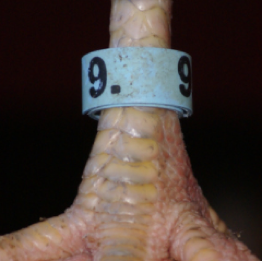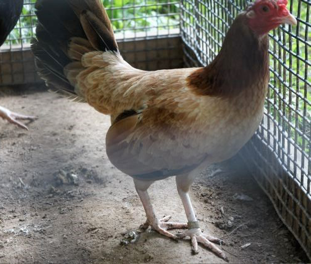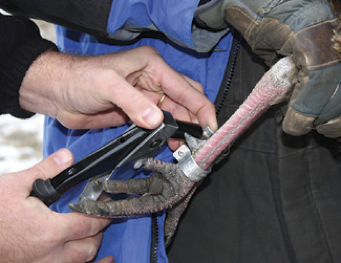 https://nationalband.com/wp-content/uploads/2018/04/website-logo.jpg
0
0
Andrea
https://nationalband.com/wp-content/uploads/2018/04/website-logo.jpg
Andrea
2017-05-31 09:00:20
2021-04-16 09:15:23
Which Leg Band is Best for You?